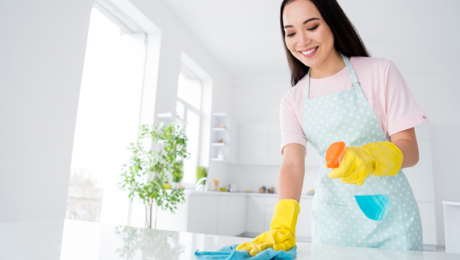 A maid service to clean your home is an important investment that you can make especially if you do not have the time to do cleaning. A professional maid cleaner service can clean your home to a level that you can be proud of. This blog will look at different areas of the maid services that you need to evaluate before you make a decision.
Finding a reliable, trustworthy and efficient cleaning lady can be a challenge. It is important to do your research when looking for a good housekeeper in Montreal, Laval, Longueuil, North Shore, South Shore, Gatineau, Ottawa, Quebec, Lévis and suburb areas. Ask friends and family for referrals, read online reviews and check out any qualifications the housekeeper may have. It is also important to ensure that the person you hire has the necessary insurance and is legally able to work in your country. Ensure that you have a good understanding of the services they provide, as well as any additional costs, before making a final decision.
Having a clean home is essential to living a healthy lifestyle. You want to keep your home tidy and organized, but you don't have the time to do it. This is where a home maid cleaner comes in. Our maids cleaners are home cleaning professionals who are able to clean your home to the highest standard. In order to find the best home maid cleaner in Montreal, there are several factors to consider. Check out these professional tips to find a local housekeeper.
There are several ways to find a quality home cleaner:
Ask for recommendations from friends, family, or neighbors. They may have had a positive experience with a cleaner they can recommend.

Research online. Look for reviews and ratings of cleaning services in your area.

Contact professional cleaning associations. They can provide you with a list of qualified cleaners in your area.
Check for certifications and insurance. Make sure the cleaner or cleaning service is insured and that their employees are properly trained and certified.
Schedule an interview. Meet with the cleaner or cleaning service representative to discuss your specific needs and to see if you feel comfortable with them.

Ask for references. A reputable cleaner will be happy to provide references from previous clients.

Check for guarantee for their service, if they don't provide satisfaction or if something goes wrong, will they take responsibility and fix it.

Ultimately, the key to finding a quality home cleaner is to do your research and choose someone you feel comfortable with and trust.
We hope you enjoyed our blog about how to hire a home cleaning service in Montreal, Laval, Longueuil, North Shore, South Shore, Gatineau, Ottawa, Quebec, Lévis and suburb areas. From the research that we have done to make this blog, we have learned that finding a home maid service can be overwhelming. There are tons of options to choose from, and it is important to make sure that you get the best one for your cleaning needs. We hope that you can use this information to make the best decision possible for your home cleaning needs in Montreal. If you have any questions about this topic or about our post, please contact Professional House Cleaning anytime. Thank you for reading!
Either it's for a deep cleaning, moving in cleaning or moving out cleaning, spring cleaning or on a regular basis, daily, weekly or monthly basis or housemaids or common area cleaning for apartment buildings, regular shared places cleaning, end of tenancy moving cleaning services, after construction cleaning services, Floor Stripping and Waxing, Hotel, Motel & Airbnb Cleaning, Condo Building Cleaning and spring cleaning services you are at the right place. Our maids cleaners are highly trained to deliver excellent residential cleaning services throughout The Great Montreal, Longueuil, Blainville, Brossard, Nuns' Island, Boisbriand, Rivière des Prairies, Boucherville, Saint-Eustache, Boucherville, Plateau-Mont-royal, La Prairie, Terrebonne, Gatineau, Ottawa, Outaouais, Laval, Westmount, Outremont, rive-nord, rive-sud, Trois-Rivières, Bécancour, Saint-Maurice, Nicolet Notre-Dame-du-Mont-Carmel, Saint-Célestin, Grand-Saint-Esprit, Champlain, Saint-Étienne-des-Grès, Saint-Luc-de-Vincennes, Sainte-Catherine, Yamachiche, Shawinigan, Louiseville, Daveluyville, Pierreville, Maskinongé, Notre-Dame-du-Bon-Conseil, Saint-Tite, Drummondville, Drummondville, Gatineau, Ottawa, Quebec and Outaouais.
Being an entrepreneur is not easy. You have to worry about everything from marketing, to finance, to taxes. The one thing you don't have to worry about is when you join a franchise. You answer to the franchise company, not to customers. Is it better to become independent or join a franchise? This blog will explore this question from both points of view.
There's no easy answer when it comes to whether it's better to become independent or join a franchise. It really depends on what you're looking for in a business venture and what you feel comfortable with. If you're the type of person who likes having a lot of control over your business, then becoming independent might be the better option for you. On the other hand, if you feel like you need more support and guidance, then joining a franchise might be a better fit. Ultimately, it's up to you to decide what's best for your business in Montreal, Laval, Longueuil, North Shore, South Shore, Gatineau, Ottawa, Quebec, Lévis and suburb areas.
There are many different ways to find success in business. Some people start their own business from the ground up, while others prefer to join a franchise. The best way to decide which is right for you is to decide what you want to get out of the business and how much risk you're willing to take.
When you decide to start a business, there are two main options: becoming independent or joining a franchise. When you are independent, you do not need to pay royalties and you are free to set your own schedule and business hours, but you also will have to deal with more of the day-to-day business operations and marketing. When you join a franchise, you have set hours and a proven business model that you can follow, but you also have to pay a franchise fee and follow the rules of the franchise. Ultimately, the decision is up to you, but if you are still not sure, you can ask other franchisees or owners of the franchise to tell you their opinions.
Owning a cleaning franchise can be an incredibly rewarding and profitable business venture. Cleaning franchises provide a reliable service that is always in demand, making it a great investment for entrepreneurs. Finding the best cleaning franchise for you requires research and due diligence, but with the right franchise, you could be running your own successful business in no time.
The decision to become an independent or join a franchise can be a difficult one to make. Determining whether to go independent or join a franchise can be a difficult one. There are many factors to consider. For more information on how to join a franchise, contact Professional House Cleaning.